Discover a Little Bit More About Con-Tech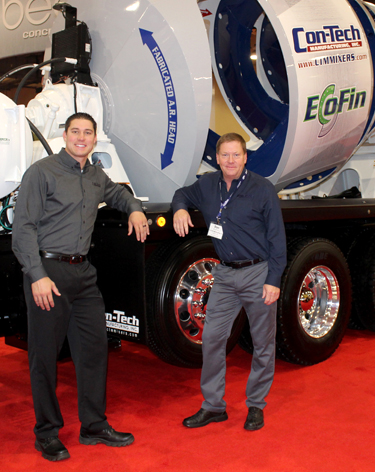 Con-Tech Manufacturing is a private concrete mixer manufacturing company, owned by Dan Welsh and Grant McNeilus. We are dedicated to serving the ready mix industry with the highest level of quality and service, while supplying the very best products and components available.
With the expertise and input from our customers, we have been able to claim a top position for all around performance, reliability, and resale value. We continually strive to improve our products and design to the highest levels of performance, safety, durability, and ease of use and service.
Con-Tech's Sales, Service, and Manufacturing teams are amongst the most experienced in the industry. With an average of more than 25 years of service we are able to handle the highest demands from top producers throughout North America.
With Con-Tech, we have the unique ability to do what others cannot. We can take in various types of used equipment on trade, including mixers, chassis, and batch plants. We also stock large quantities of mixer chassis in every brand and configuration. The owners of Con-Tech Manufacturing can be reached personally at any time to discuss specific requirements and demands that best fit your needs. Being privately owned, we are very responsive to individual customer's requirements along with the ability to making changes 'on the fly'. Every Con-Tech Mixer is built specific to your needs and specifications.
We offer an open invitation to come and visit the owners, meet the great team we have at the factory, and to see how the product is made. These visits also allow the customer to compare several brands of truck chassis side-by-side in a non-biased setting.
Contact Con-Tech today and let us show you the advantages of partnering with us!
---

News and Media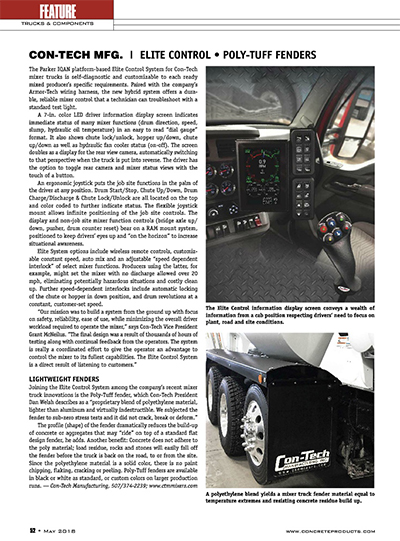 Con-Tech is on social media and is in a growing number of publications. Please look at our links and view our current publications.
Facebook
Visit and follow our Facebook page!
LinkedIn
Learn about our professional opportunities!
Twitter
Follow what Con-Tech is currently doing on Twitter!
May 2018
Concrete Products Magazine features
Elite Controls + Poly-Tuff Fenders
January 2018
Con-Tech Donates Truck to CIM Auction
January 2018
Record Breaking CIM Auction